Massing study helps the architect the study the concept of building model in terms of masses or general shapes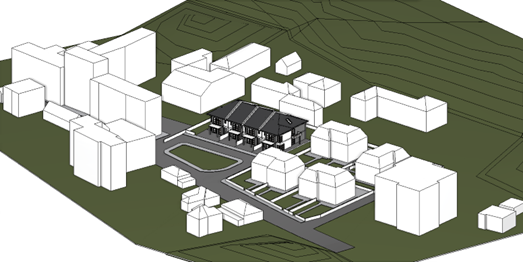 Location: Building > Terrain > Building Volume
The basic shape and height
Create the desired shape using the Profile definitions.
Then the Building volume dialog window appears.
The volume of the building
In the Building volume dialog you can detail the rule system referring to the surfaces border the building volume control.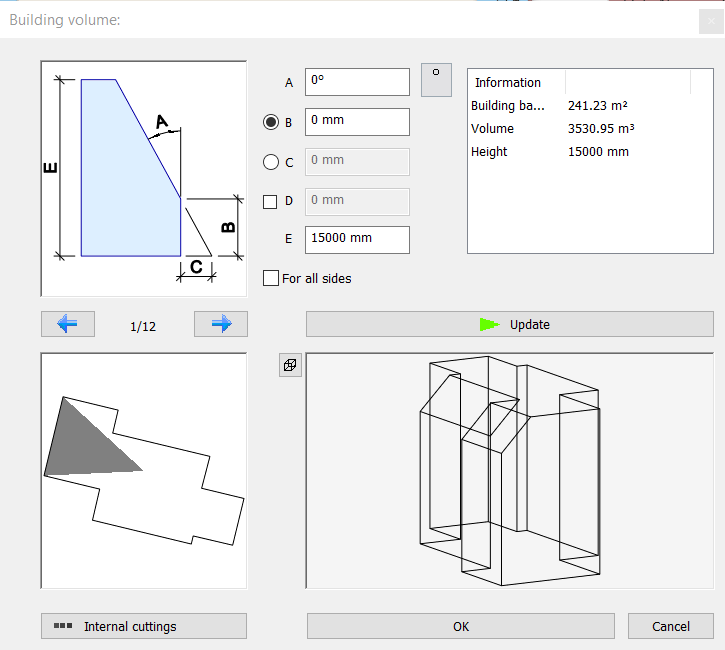 Parameters
The left side picture helps to understand the meaning of parameters.
| | |
| --- | --- |
| A | The angle of selected plane compared to perpendicular. You can determine the angle value between 0 and 89 degree. In case of giving false value, the field's colour will be red. The angle counts from the line determined in B. |
| B | The frontal height of the selected side: If you use this option, the C option can't be reached. |
| C | Shifting the starting line of oblique limiting on the base plan: If you use this option, the B option is not definable. |
| D | Inside perpendicular limit: You can use the option independently. You can determine with its help such building volume limits, which can't be definable in any other way. |
| E | The maximum height of the building volume: Here you can see and modify the value of height determined at building volume base contour. |
For all sides
After switching on the option all sides of the refreshed volume model change according to the selected A-B-C-D-E values.
Information list
These information help to get a picture continuously from the designing volume model according to the geometry information.
Select sides
The sides of the polygon by creating base contour determine the sides of the volume model, which is lifted out from this. You can see the simplified plan of the volume model in the top view window. The selected side appears as a grey area. You can select between the sides with the button above the window. The numerical value shows how much sides exist and which one is selected now. 8/8 means, that there are 8 sides and the last one is selected. You can also select in the window if you click on the proper side.
Preview
You can look at the changes during the drawing in the pre-view window. Each new change in the drawing can be transformed to the Pre-view window by clicking on the Update button.
Internal cuttings
If you use the internal cuttings, you can graphically determine complex rules. In the appearing dialog window you can determine detailed limits on the selected side.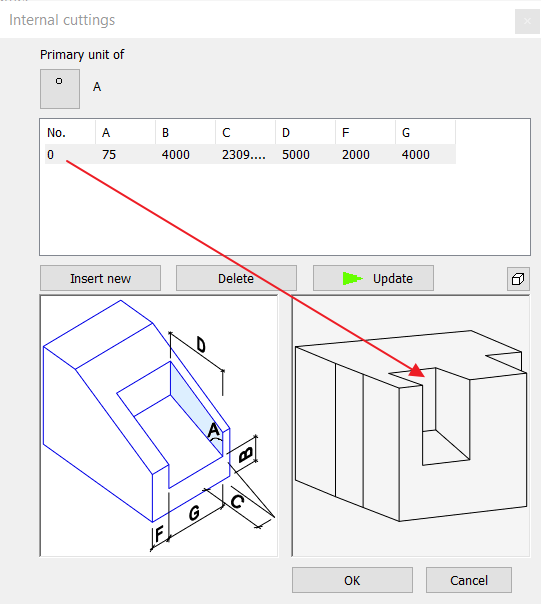 You can make a new rule with the Insert new button, so even periodic structures can be determined. The explaining figure helps with determine different rules and you can follow the changes on the actual volume model as well by clicking on the Update button.
Parameters
| | |
| --- | --- |
| A | The angle of the new cutting compared to perpendicular. |
| B | The base height of the new cutting compared to the base line of the selected side. After the changing the C value is refreshed automatically. |
| C | The value of shifting the base line of the new cutting plane compared to the base line. After the changing the B value is refreshed automatically. |
| D | The depth of the new cutting compared to the perpendicular plane of baseline. |
| F | The left side base plane of the new cutting. The limiting surface of the two side's vertical cutting is perpendicular to the vertical plane of the base line. |
| G | The width of the new cutting. This value determines also the place of the perpendicular limiting on the right side. |