Ribbon bar organizes tools in a series of Panels which are grouped in different Tabs.

The number of tabs and their order depends on the current workspace and is defined in the Ribbon node of the workspace. Ribbon bar enables quicker learning of the program as a whole, and makes users feel more in control of their experience with the program. Ribbon bar replaces both the traditional menu bar and toolbars.
Display or hide Ribbon bar
You can increase the drawing area by hiding the Ribbon bar.

When you close the Ribbon bar, only the tabs on the Ribbon will remain visible. In the top right corner, click on the arrow icon to hide the Ribbon bar. When you click on the tabs, the Ribbon bar is temporarily displayed and you can choose from the available commands. After clicking on the command, the Ribbon automatically vanishes. To display the Ribbon bar again click on the arrow again now facing down.
Resizing the application window, the ribbon automatically adjusts its size to fit the available space. This feature allows all buttons to be visible for most screen sizes.
Search
According to the text written into the search box a list of commands appear which have the same words in them. Click on one element from the list and the chosen command starts. If you hover over one element of the list with your mouse its tooltip will appear. (local help)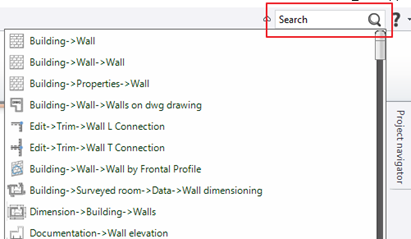 Subcommands
By clicking on the arrows facing down on the panels of the Ribbon bar the drop-down menus open and you can choose from the available commands.
Tooltips (local help)
If you hover over a command for a few moments a tooltip appears which helps the understanding of the command with graphics and description.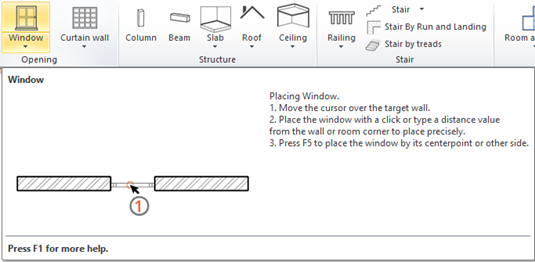 Key tips of the Ribbon bar
By pressing the Alt button on the keyboard small letters, so called Key Tips appear beside the tabs and commands of the Ribbon bar. Using these letters after pressing the Alt button the commands of the Ribbon bar can be started.
Example: by pressing the Alt and B buttons after each other the Building tab opens, then by pressing the W button you can access the Wall menu. Here if you press the W button again you can start the Wall command. To close the Key Tips press Alt.