The highest level logical unit in ARCHLine.XP is the building, which is made up of its floor plan levels, elements created on these levels, and layers that help displaying the elements. A project can handle multiple buildings, of which one building can be actively edited at a time, while the others appear in lower color tones.
Location: Edit levels dialog > List of buildings
ARCHLine.XP can have multiple buildings in one plan. You can switch between buildings in the Project Navigator. Here you can also switch between the floors of the buildings.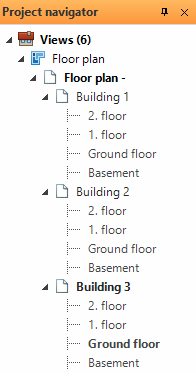 Buildings can be renamed and deleted afterwards. Depending on the terrain, the buildings can be assigned different altitudes. You can turn off the faded inactive buildings on the floor plan in the List of buildings dialog. The inactive buildings are still visible in the 3D model, which you can make invisible by turning off the All buildings option in the Build 3D model dialog.