When you create a project, specify the project location on the globe using the nearest major city or the latitude and longitude. This project-wide setting is useful for generating location-specific shadows for views that use them, such as solar studies, walkthroughs, and rendered images.
You can locate your project exactly on the planet using Latitude and Longitude or GPS coordinates. The project location is represented by a place mark on the Google Maps. The GPS coordinates are automatically saved into the ARCHLine.XP project and viewable each time you start Google Maps.
The Project Location dialog is available from:
Building > Google Maps Integration > Project Location

File > BIM > Project Parameters > Project Location
Go to the required location by clicking on the Project location by Google Maps button.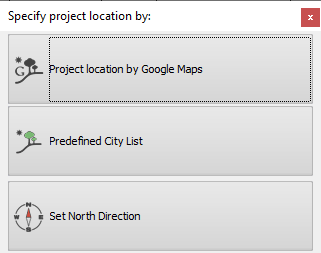 To change the location choose one of the next steps:
Click Search box and type your address.

Click Project's Location red marker to drag on new location.