About IFC file format
The Industry Foundation Classes (IFC) data model is designed to describe building and construction industry information. The IFC format is a universal, neutral data format that is now considered for industry data exchange.
IFC provides 3D geiometry and data exchange between different CAD / BIM design software. The most valuable feature of the IFC format is to preserve the architectural elements of the IFC file types and their properties. The wall, ceiling, etc. properties remain the same, although a few compromise may occur at the level of today's technology. ARCHLine.XP supports the IFC 2x3 for import and export formats, and the program is certified for IFC 2X3 coordination view 2.0. The IFC-based data exchange capacity is significantly higher than the content of the currently prevalent DXF and DWG-based data format information.
Importing IFC files can be done in two ways
Import files using Drag and Drop:
Drag and Drop is a convenient and easy way to open an IFC file. Open the folder where you have the desired file. Drag the files from Windows Explorer or ARCHLine.XP window and drop them. Select an import action from the dialog that appears.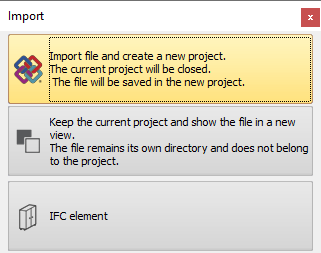 Importing using File menu > Import command:
To import an IFC file, select Import IFC. Select an import action from the pop-up dialog. Select the IFC model you want to import.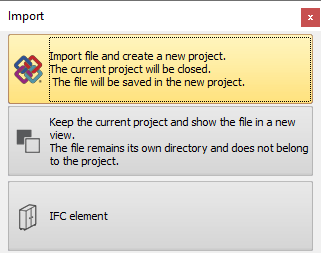 The data in the imported IFC file is integrated into the data structure of ARCHLine.XP, which means that where possible, elements of the same type are created, e.g. walls, ceilings, columns, etc.