ARCHLine.XP supports teamwork. Users work simultaneously in different areas of the central model. For example, different members of the team work in certain functional areas, such as building structure, internal details, e.g. lighting, tiling, furniture arrangement.
Create a new team project
You can convert any one-user project into a team project by following these steps. The Administrator creates a new Team project by choosing New project when ARCHLine.XP starts. In the Save dialog, the Administrator specifies a file name and directory location for the central model on a network drive to which all team members (users) have access.
Location: File > Teamwork > New project
The Administrator adds new users by defining the name that will be used to login. Password is optional. The following image shows the User administration dialog, adding users.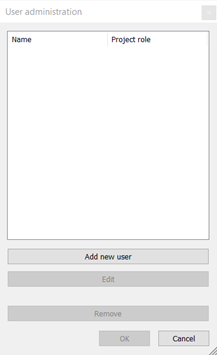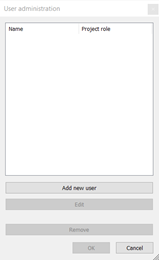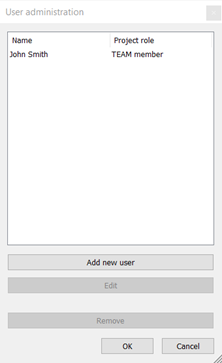 The Administrator will login choosing one of the identity already defined.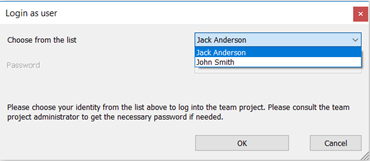 The next step is to create the Master working area. Master working area is the only working area where password is required to enter.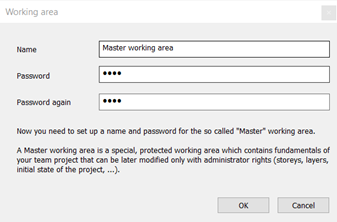 Additional working areas can be created to provide simultaneous access to a shared model for the other users.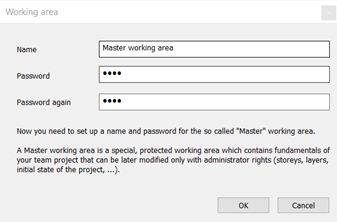 The following image shows the Working area manager dialog, with two working areas.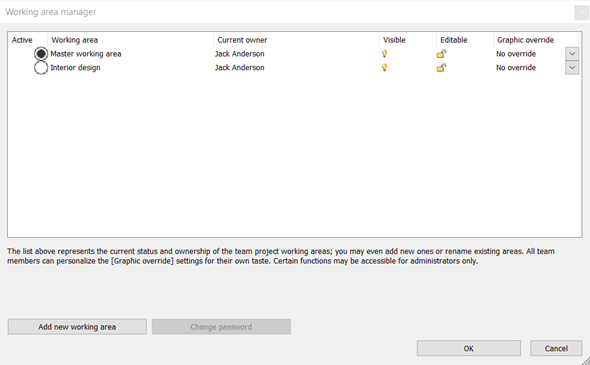 The Administrator resaves the project. After this, the team members can start working too.
Users can login choosing one of the identity already defined and begin to work on Team projects.