You can create a custom plot stamp by the following steps. If you add texts starting with $ character, ARCHLine.XP will manage it as a parametric text and your custom stamp works as dynamic stamp.

Draw a rectangle with real 1:1 stamp size, e.g. 190 x 50mm.

Draw the cells with line tool.

Add the texts starting with $ character you want to change the content when you place it from the library.

Add regular texts, bitmaps, etc. and other element you wish to keep constantly.

Save it as a new group.

Choose "Create group in library" command from the menu "Drafting– Group".

Select items and close selection by pressing "Enter". Give at least two reference points and press "Enter".

Enter name, category, sub-category and producer (optional) in the dialog.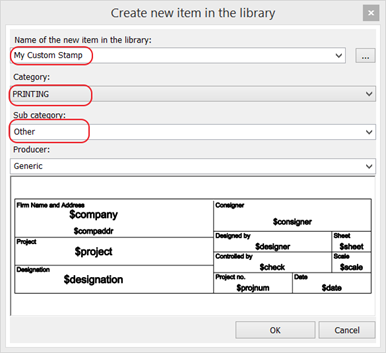 The new stamp is created here: Desing Centre > Building > Group > Printing > Other