Drawing Recovery Manager provides an easy-to-use search feature that helps you find ARCHLine.XP project files on your computer, even if you don't know its full name. It is easy to recover files from the anywhere on hard drive or specifically from the ARCHLine.XP Backup Archive folder.
Location: File > Tools > Drawing Recovery manager.
Browse the folder in which you want to sart your search. The default path is ARCHLine.XP Draw folder.
Type part or all the file name you want to find.
Optionally select the "Search result in archive directory" from the combobox if you're having a difficult time finding an earlier version of a specific project file .
Click on Search button. The search results are shown below the Search text field. Scroll down through the list of search results to find the file you are looking for, .
If you find the requested file click the file name. The dialog displays the views of the project in Project content list. If you click any of the view name the preview field displays the view snapshot. The file info displays the file name, full path, size and

the

last

time the file was modified.


Click on Open button to open the file.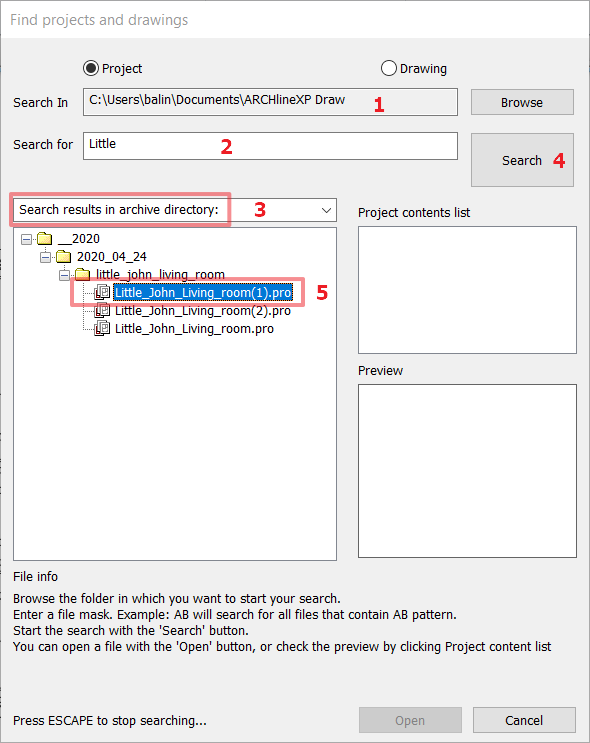 If you open a project from Backup Archive, a message appears on the screen: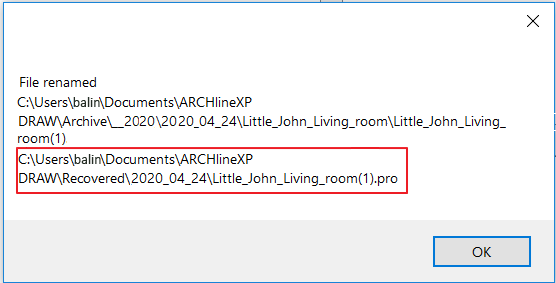 The file has been replaced to the Recovered folder to avoid the situation where the last valid file is saved to the Backup folder. The next recommended step with the save as feature is to save the project to your home folder where the original project was.