With Build 3D model or Quick 3D model, you can track changes of the floor plan in other drawing areas. It is important to know that with 3D update, not only the 3D model but also the other views associated with it are updated. The number of drawings (elevations and sections) generated from the 3D model affect the rate at which the 3D model is updated.
Too many open views
1.
2020 version: For larger models, make sure that the Keep Section views of this project updated check box on the Options - Graphics tab is turned off. This avoids that the continuous updating of the 3D model becomes confusingly slow due to the continuous and much slower reconstruction of the sections.

2021 version: Sections can be updated in real time if you set the image section option in the section properties dialog box instead of the much slower vector section option.
Too many open views
2. The slowness of updating the 3D model can also be caused by too many open views. These windows can be closed with the Minimize view command so that they can be accessed again later from the Drawing Pane, but without affecting the 3D model update.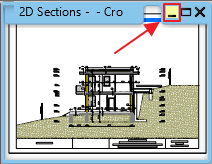 It is also important to not only close windows with the Close function that are no longer used, but also to delete them from the Hidden views in the Project Navigator.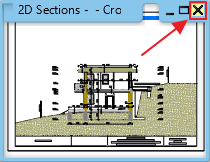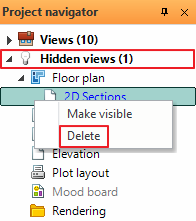 Display full roof tiles
In the Build 3D model dialog you can set the level of detail in which the roof appears on the 3D model. With this setting, it is possible for the program to model each tile, which significantly increases the number of surfaces in the project, thus the time required to update the 3D model too.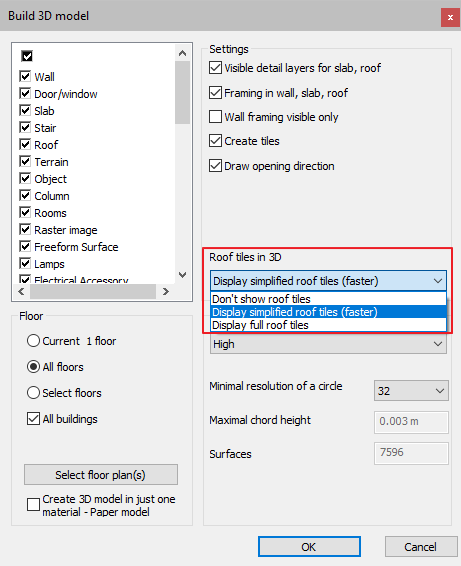 If the 3D display of roof tiles is set to Display full roof tiles, it is recommended to change it to Display simplified roof tiles (faster).
Automatic update of Schedules
For larger models, make sure that the Automatically update statements in the drawing check box in the Options - Global Values panel is turned off.