ARCHLine.XP supports 3D Connexion devices like the SpaceMouse® and CadMouse for professional and smooth design experience.
"3Dconnexion designs powerful, research-based ergonomic hardware and smart, easy-to-use software that combine seamlessly to make working in the world's most popular CAD applications and 3D environments fast, comfortable and fun.
From our SpaceMouse® 3D mice to the CadMouse, 3Dconnexion products provide a superior way for CAD professionals to interact with and experience the digital world." - 3D Connexion
System requirements
Starting to use a 3D Connexion device with ARCHLine.XP
No matter which supported 3D Connexion device(s) you have connected to your computer you only need to do the following:
Make sure your 3D Connexion device is connected to your computer.
Start ARCHLine.XP.
That's it! You can start designing and navigating in your projects using your device.
Device settings / Customization
Default device settings are provided to you by 3D Connexion in collaboration with the ARCHLine.XP team based on which device(s) you have connected to provide the best default experience possible.
However, should you need any of the default device settings to be changed, feel free to open the "3D Connexion Properties" application and customize.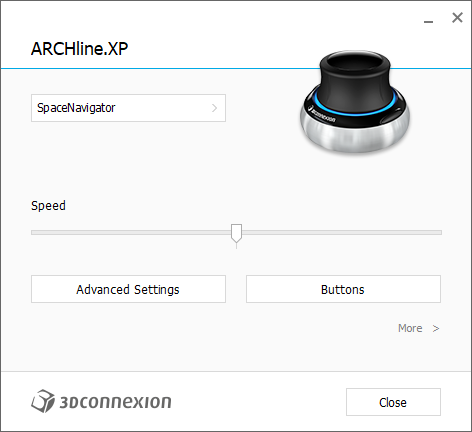 SpaceMouse® 3D mice and SpaceNavigator provide a uniquely natural and convenient navigation in the 3D space using its special round-shaped controller button. Please check the following quick reference about the default mapping of the controller button:
| | | | |
| --- | --- | --- | --- |
| Movement | 2D | 3D axonometric view | 3D perspective |
| | 2D Pan | Pan view | Camera pan |
| | 2D Pan | Pan view | Camera pan |
| | Zoom | Pan view | Camera elevation |
| | - | Tilt view | Tilt camera |
| | - | Roll view | Roll camera |
| | - | Rotate view | Rotate view |
Supported commands
ARCHLine.XP provides a very wide range of supported commands that you can bind to specific customizable buttons of your device. To see the available command list, please open the "3D Connexion Properties" application and click on "Buttons".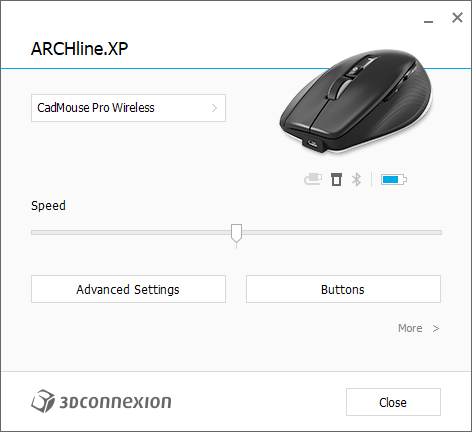 Radial menu
Certain 3D Connexion devices come with a so called default "radial menu". In case you have a CadMouse for example you will see that an ARCHLine.XP specific radial menu appears right after you push the corresponding physical button on the device right "above" the wheel. The "ARCHLine.XP RM" radial menu looks like this: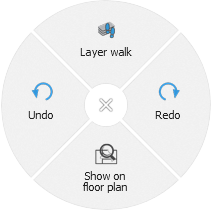 The ARCHLine.XP radial menu offers a gesture based fast access to frequently used ARCHLine.XP commands. The radial menu can also be customized in the "3D Connexion Properties" application.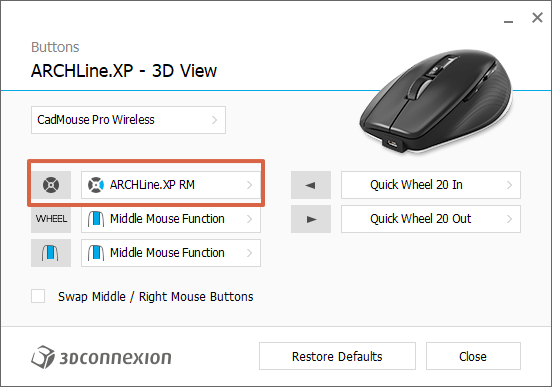 LCD screen
If your device is equipped with an LCD screen, you can use the corresponding shortcut buttons to execute application specific commands directly. This can be also customized in the "3D Connexion Properties" application if you click on "Buttons".
The default shortcut button layout of the SpaceMouse® Enterprise device:
| | | | | | |
| --- | --- | --- | --- | --- | --- |
| Layer walk | Quick 3D model | Create similar | Show on floorplan | Hidden line | Consistent colour |
| Textured | Undo | Redo | Schematic | Detailed | Documentation |
3D Connexion device manual
A 3D Connexion device manual is available for your convenience, separately in the device application help.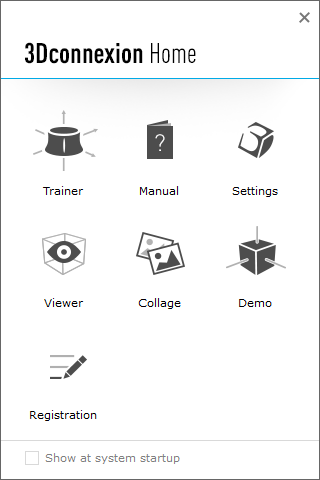 For further questions about using and customizing your 3D Connexion device's behavior please contact your 3D Connexion dealer or the 3D Connexion device suppport page: https://3dconnexion.com/uk/support/