The stair by treads method assigns the rising to each stair step contour and creates the stair.
The step contours must be pre-drawn with 2D tools like lines and arcs connected.
Note: Stair by treads is an additional method for creating stairs. Suitable for specifying stairs that cannot be created by specifying parametric values.
Some rules:
- Regarding the stair step profile there is no limitation but it must have a closed contour.
- First the 3D model will be represented by cover slips. Later you can change it by 3D view settings. This is available when you modify the stair.
- If there is no connection between two stair steps then:
the walking line will not be created automatically,
it is not possible to build the support and the body of the stair in 3D view.
This means that stair by treads functionality is available only when the back contour of a step will coincides with the front contour of the next step (or shifted parallel by the nosing depth).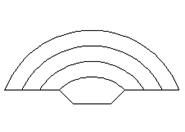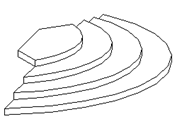 1. Click on a 2D drawing part, which should act as the first tread's boundary
2. Enter the riser height (this will apply to all steps, but you can change this later individually)
3. Proceed and click into the rest of the treads, one by one
4. When done, hit Enter two times and the staircase is created
You can later edit the stair's properties.