The term "floating stairs" is used to describe a stair with treads that are supported in a way to look as if they "float" in space. This can include a single stringer, double stringer or hidden stringer for supporting the stair treads.
The stringer can be placed on the center line, on the right and/or left side of the stair.
The structure consists of two parts: the tread support and the beam, which is usually a closed section.
You can visualize on the floor plan with the centerline or top view display.
Most of the time stringer shape is rectangular or round tube but it is allowed to select any shape from Profile library.
Treed support between the tread and stringer tube is a separate object from Object library.
Many types of tread support can be formed with different tread plate and plate riser wedges.
Both profiles and objects can be used.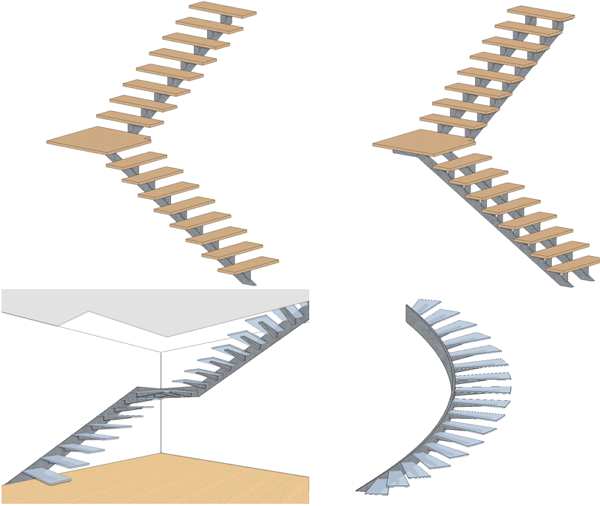 How to create
The floating stair can be created either by modifying an existing stair or directly.
In ARCHLine.XP there are three types of stair to choose from the properties dialog:
a. Staircase with concrete body.
b. Stairs only with treads.
c. Floating stair.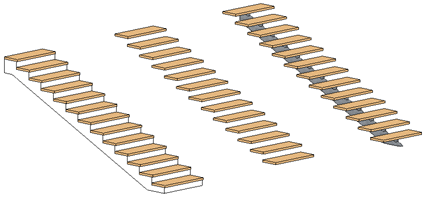 The structure of the staircase is not changed by the support. It means any support structure can be made under an existing staircase.
Converting an existing stair to floating stair
Location: Building - Stair - Convert to floating staircase
The support structure can be placed on its center line, on the right or left side. Click one of the side or the middle of the stair run.
Many types of support can be formed with different tread support and beams. Both profiles and objects can be used. Downloaded objects can also be used.
Modifying properties
Right click on ay part of the stringer and choose Properties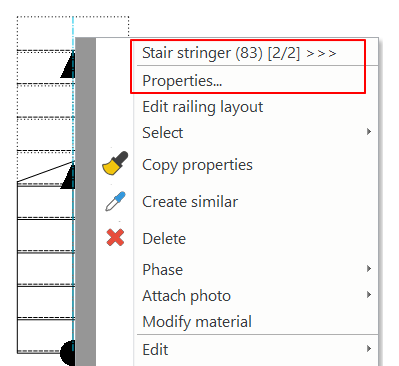 You can edit general settings, the stringer beam properties and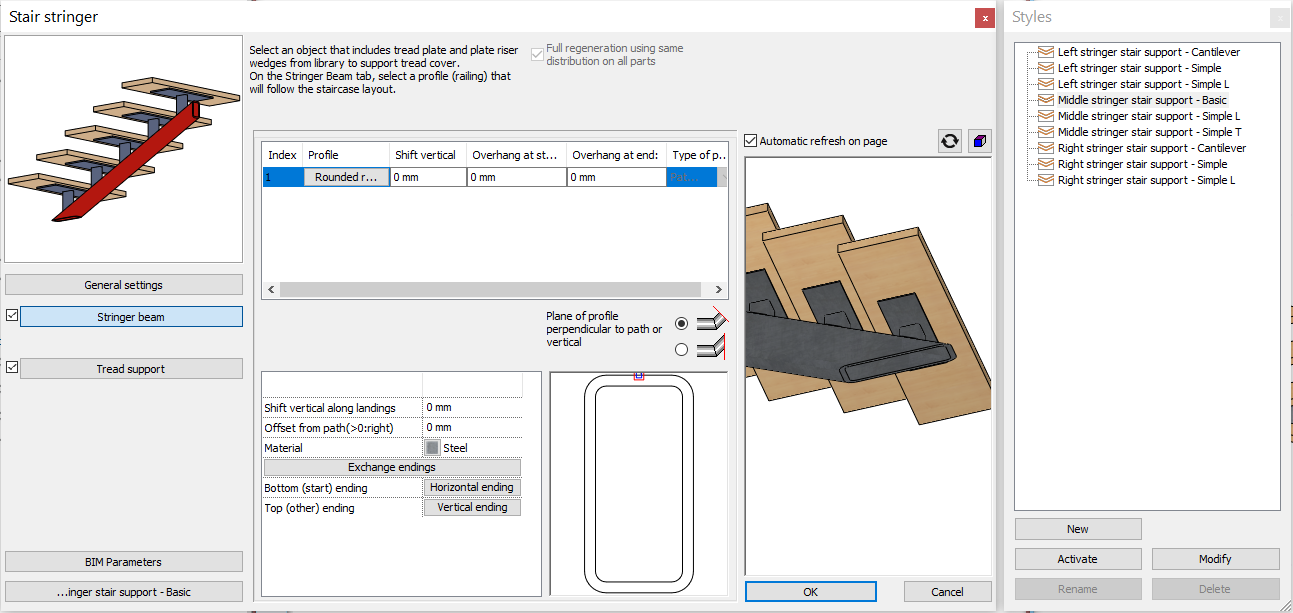 tread support.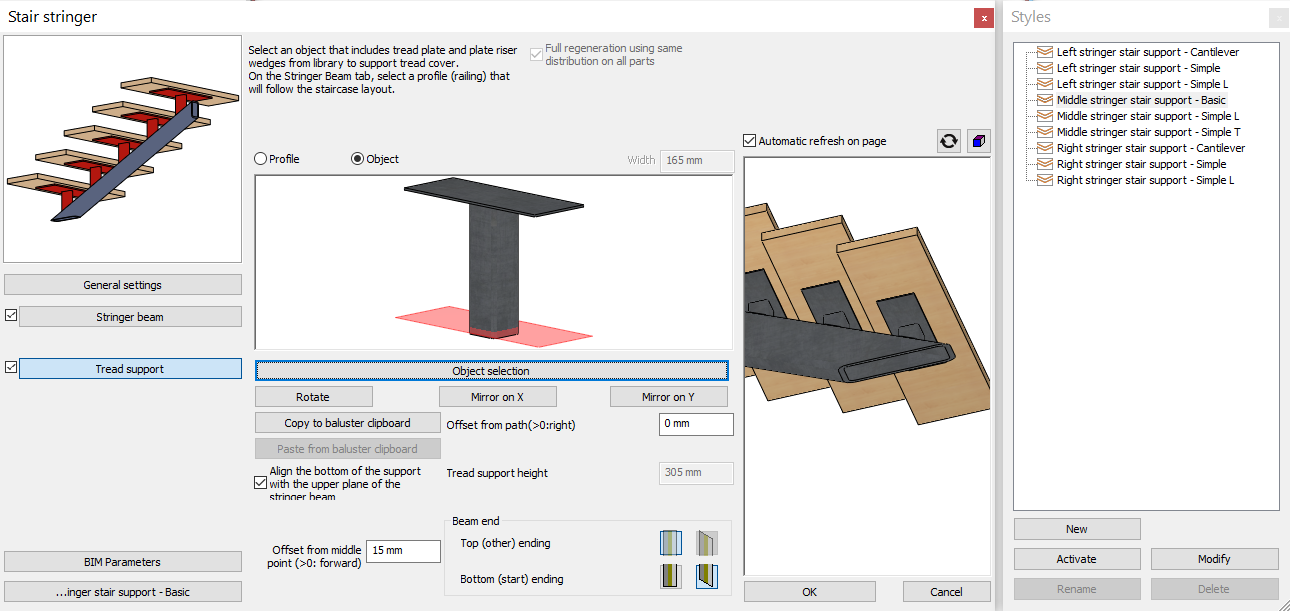 You can choose factory objects from the library or downloaded objects. Click on the Object Selection button.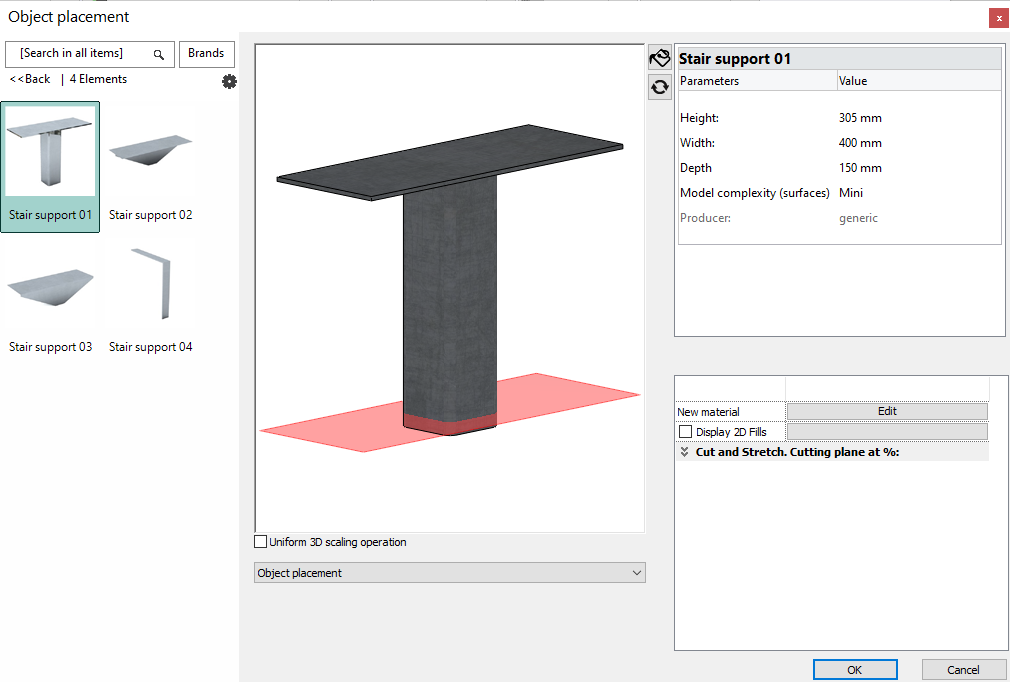 The position of the support in relation to the step can be specified from step middle:
Built-in types:
| | |
| --- | --- |
| Left stringer stair support - Cantilever | |
| Left stringer stair support - Simple | |
| Left stringer stair support - Simple L | |
| Middle stringer stair support - Basic | |
| Middle stringer stair support - Simple L | |
| Middle stringer stair support - Simple T | |
| Right stringer stair support - Cantilever | |
| Right stringer stair support - Simple | |
| Right stringer stair support - Simple L | |