ARCHLine.XP is a building information modeling (BIM) software for professionals.
MEP stands for piping and HVAC which are the current engineering disciplines that are addressed by ARCHLine.XP MEP.
The concept is the idea of using the MEP in a BIM model in ways that allows the common work of architects and MEP designers at each stage of a building project.
Advanced functions help designers to synchronize design tasks, improve project quality, and connect their work.
Automated routing connections, System, MEP calculation, parametric fitting content library with variations.
Available as Add-on for LT and PRO version.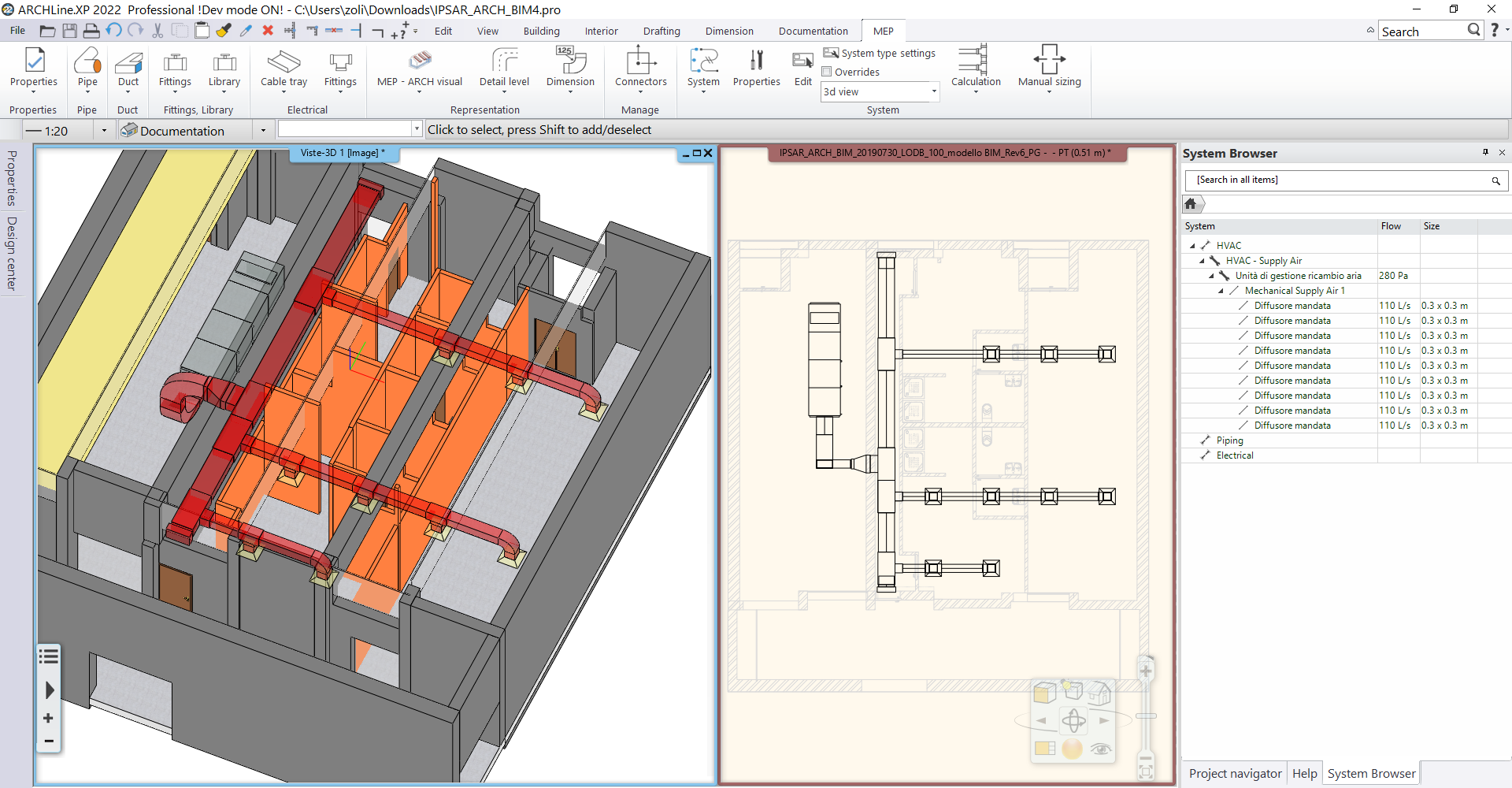 Integrated system calculations
The integrated system calculation allow designers to perform calculations throughout the design process in order to visualize planned system performance and to compare design alternatives if necessary. System calculation executes automatic sizing, and verification of compliance with design requirements.
View Templates
View Templates help to increase accuracy and reliability of MEP design in BIM model.
Enables to alter the appearance of the 3D views between architecture and MEP disciplines.
1. MEP only view displays the MEP elements only.
2. MEP primary view shows the building in the background and MEP elements clearly in the foreground.
3. Architecture primary view is exactly the opposite.
4. Architecture only view shows the building only.
Quantity take-off
Material lists are available of all the fittings and MEP objects in the project with selected properties.
Schematic design phase
In this phase, the designer can place the main units and terminals according to the building requirements. Piping strategy might be coordinated manually on 2D floor plan or automated routing with sizing estimates.
Detailed design phase
The detailed design phase is where MEP system calculation is the core activity. It performs sizing and balancing for all MEP components.
Designers can also switch to manufacturers products, meaning they can create the design with real products.