Error code
Description
1000:1
This serial number has already been activated on another computer.
1000:2
Maximum allowed activations exceeded.
1000:3
Activation - No Internet Connection.
Please connect to the Internet and retry.
1000:4
Activation was unsuccessful because the activation server is unavailable at this time.
1000:5
Unable to activate.
1000:6
Activation denied.
1000:7
Serial number has been revoked.
1000:8
Invalid activation number.
1000:9
Invalid serial number.
1000:10
The clock on your computer is set incorrectly, causing a connection error.
Please adjust your clock and try again.
1000:11
Attempting to deactivate an unactivated computer.
1000:12
You cannot transfer the trial license
1000:13
Deactivation - No Internet Connection.
Please connect to the Internet and retry.
1000:14
Licensed number of users already reached.
1000:15
No data available
1000:16

This license file belongs to another program version. Please find the license file of the following program version:

1000:17
There is no valid license to use this software
1000:18
Incorrect password
Licensing error popup is displayed with various messages under different circumstances.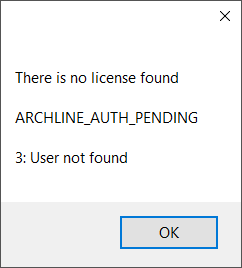 Here are some ways to resolve different issues.
2: Authentication session gets interrupted
The error message is displayed indicating that the Authentication session will be disconnected
Possible reasons:
Typing errors
Maybe you have a typo or some keys of your keyboard are broken.
Caps Lock is active
Caps lock (the key above the shift key that causes all typed letters to be in CAPITAL case) is active. Your password is case sensitive.
Solution:
Deactivate Caps Lock.
Correct any typing errors. Enter your password in a field (e.g. in Notepad) where it is displayed in clear text. If your password is correct, copy it into the Password field.
Check your login details.
3: User not found
The "User not found" error means that the user either changed their username, the user deleted or disabled the account or the account has been suspended.
Solution:
If you are typing in your username incorrectly, you will get this error. Be sure to double-check you've not accidentally added any additional characters or making any spelling errors.
If you are still unable to gain access via your username, we'd recommend to get in touch with ARCHLine.XP support here.
4: Incorrect password
If you see an error message saying "Incorrect Password" when you try to log in and you're sure you entered the right password:
Make sure that your caps lock key is turned off and try again.
Solution:
- Click forgot password. If you forget your password, you can request to reset your password.

If you're still having trouble getting into your account, get in touch with ARCHLine.XP support here.
10: (1000:17) No license found
This error message can pop up due to several reasons which include your internet connection, hardware change or sometimes an incomplete installation.
- Internet Connection: The error message can pop up if you are disconnected or your ethernet cable is unplugged. If you are using a trial version of the software or not, you must be connected before launching.
Solution: Make sure you are connected to the internet. Trial versions or not, an internet connection is needed to launch the application. If your computer is not connected to the internet double-check your ethernet cable or your wireless connection.
- Hardware Change: Sometimes, the error message can be triggered by a recent hardware change or a BIOS reset/update.
Solution: You have to deactivate the software to your computer and then activate it again using your serial key.
- Incomplete Installation: Another cause of the error message can be an incomplete installation.
Solution: Download the software again and install it.
11: There are multiple licenses for the specified login.
This error messages can pop up when multiple licenses assigned for the specified account. Currently ARCHLine.XP login system cannot manage this situation.
Solution:
To solve this issue, enter your serial number.
12: It seems you already have a license.
This error messages can pop up when a license already exists on the account. Trial version is no longer allowed.
Solution:
To solve this issue, enter your credentials (Login and password of your ARCHLine.XP account, or valid serial number).