Using KBB tools, you can create furniture that fit in in shape and size. With the Cabinet door, Cabinet and Countertop tools you can create a complete cabinet family with base cabinets and high cabinets, countertops and kitchen accessories.
Cabinet door tool enables to create the detailed model of cabinet fronts.
Location:
Interior – KBB – Cabinet Door
The structure of the Cabinet door dialog is the following:
- On the top of the dialog, you can see the preview of the model.
- On the bottom of the dialog, you can edit the model and define the preview.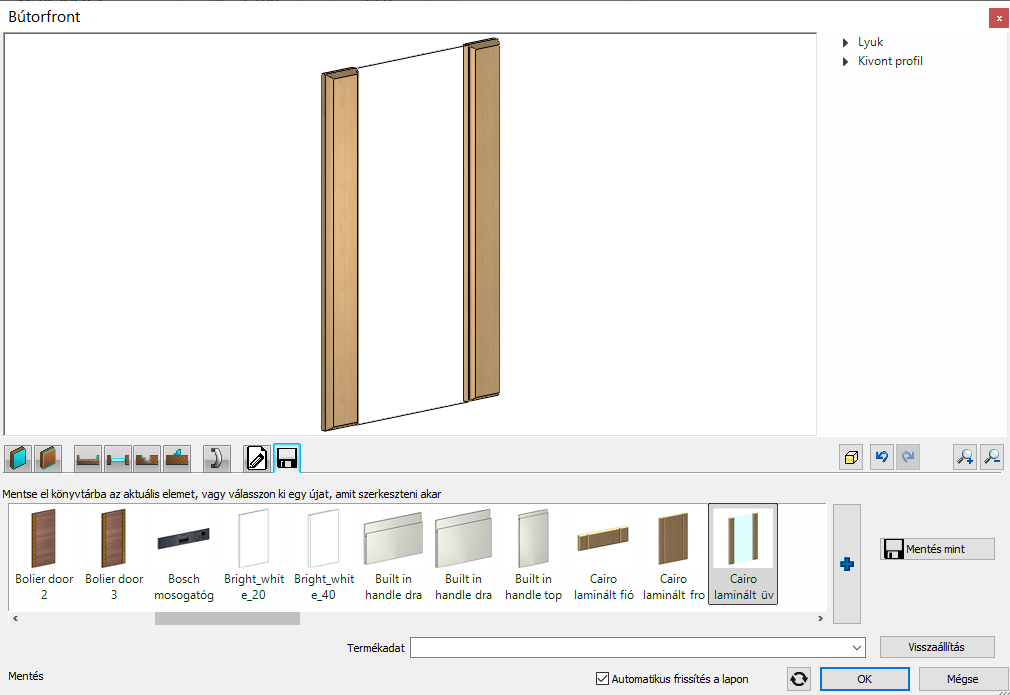 Preview buttons
| | |
| --- | --- |
| | Switch between Texture / Hidden Line / Wireframe / X-ray previews |
| | Undo button to return to the previous edit step. |
| | Redo to return to the previously undone edit step. |
| | Zoom in button to enlarge the model preview. |
| | Zoom out button to reduce the model preview manually. |
| | Frissítés gomb az előnézet kézi frissítéséhez. |
| Automatic refresh | Preview of the furniture front is updated immediately when you make a change. |

Tabs of pages for editing and saving
Depending on the modifications you want to make, different pages are available:
| | |
| --- | --- |
| | Frontal profile to set the profile and materials of the cabinet front. |
| | Outer edges to set the rounding of edges and the angle of edges. |
| | Inset to set the profile and materials of inset. |
| | Hole to define the profile and materials of holes. |
| | Subtract profile to remove a swept profile as ornament from the cabinet front. |
| | Add profile to add a swept profile as ornament to the cabinet front. |
| | Handle to add handle to the cabinet front. |
| | General settings of the representation on the floor plan. |
| | Save the prepared cabinet door in the object library. |
On each tab, you can find subsequent tab(s) for further editorial functions.

You can leave the dialog with clicking the Ok, Cancel, or Close buttons. When you click Cancel or Close, the program asks for a confirmation