It's all about lights and realism in ARCHLine.XP LIVE 2022!
Have a look at the most interesting new features of ARCHLine.XP LIVE 2022. This article is continuously updated with new content, don't forget to come back to check exciting new topics coming.
True LINEAR lights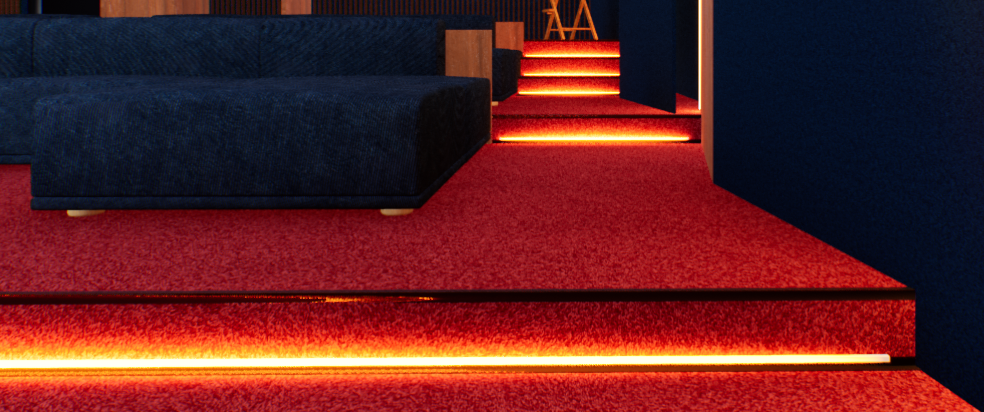 You can add true linear light sources to your model, such as LED strings of recessed lighting to turn your design into a truly gorgeous visual. These light sources support all sort of parameters to be customized such as their size, colour, intesity and even the light bulb itself. Compared to classic CPU based rendering LIVE delievers real-time visualization and modification of linear lights as well.
True AREA lights
You can place true area lights into your 3D scenes as ready to use items to create stunning lighting for ceiling lighting or any other larger area light surfaces. You can even turn off the visibility of the light source itself which makes this tool an ideal choice when you only want to add helper lights.
Still image support in animation
If you ever wanted to add a still image into your animation, you have ARCHLine.XP LIVE 2022 to do that. Any image, should that be a logo, a title, a still image of your scene can be added to your sequence and exported into your video file easily.
Automatic light switch
Animations containing artificial lights can now react to changes throughout a full day / night cycle automatically turning on or off the artificial lights based on the time of day.
Revolving car wheels
Cars included in the built-in library are represented more realistic thanks to the automatically managed car wheel rotation, which is matching the speed of the vehicle.
Drag and drop support for import
You can import files of supported types by simply draging and dropping the file from the Windows File Explorer onto the ARCHLine.XP LIVE application. Importing has never been easier.
Upgraded FBX import
FBX import has been improved for better material, texture and mesh interpretation.
Automatic power resource management
ARCHLine.XP LIVE running in the background does not need a lot of resources from now, thanks to the automatic power management feature built into the application. When idle, the software automatically reduces FPS to nearly 0, stops animations, videos and sound. When in focus, it brings back all features and uses the maximum available resources of your computer. This also means your computer is less noisy and consumes a lower amount of power, when LIVE is in the background.
User account-based license management
You can use your ARCHLine.XP LIVE license either with an offline or an online solution. It is really simple to use your licens anywhere if you have an online account.
3D text
Place 3D texts or annotations anywhere in your visual should that either be the name of an object or a specific surface. You can also represent room areas, room names and many other written information in 3D.
Interactive text visualization
A 3D text can be a interactive item, appearing only when in close proximity of the camera for example when passing by in an animation sequence.
Parallax mapping support
Parallax mapping technique provides an efficient way to represent 3D surfaces without actually modifying the original model itself, only by using height map textures for the PBR materials. Parallax mapping may be far more convincing in many situations in comparison to bump or normal maps purely as this technique also visualizes surface occlusions that appear for example on a cobblestone surface where individual stone pieces actually occlude other pieces - especially when viewed from low angles.
Panorama 360 improvements
Panorama 360 packages are now easier to create and handle. A tiny counter indicates the number of connections to other cameras on the Panorama 360 camera tray to help finding the ones need attention. If there is any abandoned camera remaining the warning message will list all the cameras when you try to publish the package.
SKP 2022 file format support
You can directly import SKP 2022 format files into LIVE.
JPG and PNG file support in drag and drop import
Simply drag and drop any JPG or PNG file into the application and it will be automatically imported as a material in the Imported materials folder.
Copy project and Open containing folder commands at the application header

You don't need to manually find the physical file of the currently opened project. You can use the menu appearing at the application header right next to the file path. Click on the tiny arrov to open the menu and select the Copy project command to copy the saved version of your project file to the Windows clipboard and use the Paste command in a Windows File Explorer window to paste a copy of your file easily. In the menu you can also choose the Open containing folder command which will open the Windows File Explorer and show the physical location and file of the currently opened project, similar to the Open folder commands of the Snapshot and Animation trays of ARCHLine.XP LIVE.
Interactive animations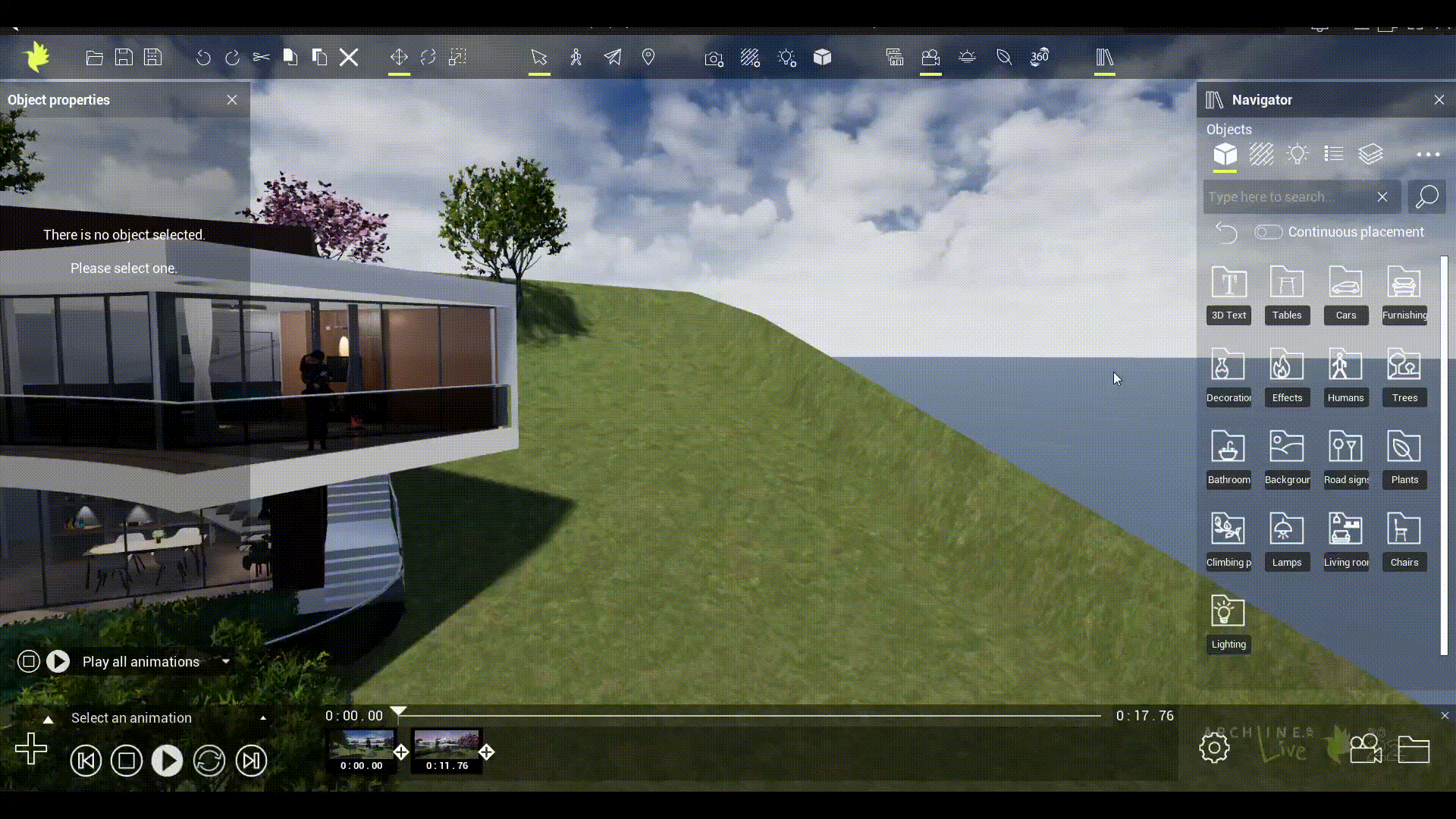 You can now create stunning videos with interactive animations. You can customize how the objects appear on the screen: 4 animation types, the length of the animation and the radius where the camera activates the animation. You can create the illusion of furnishing a blank room whith just a few clicks.
Enhancements
Model import
The imported content is automatically focused after import.
Animation
Management of vertical elevation animations and animated objects in a group are further enhanced.